" The Best Of Both Worlds:
Professional Vocalists combined with Interactive DJ's"

Video footage and Photographs courtesy of JKM Productions and Cassandra Storm Photography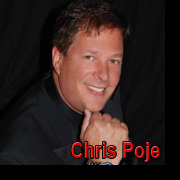 Chris Poje is a full time entertainer. He is available as a "Headliner" Vocalist, as well as a "live"
performance, interactive DJ entertainer. Chris had performed in live bands for many years in NYC
and Long Island until he formed his NY DJ business in 1994. He designed a unique blend of wedding
entertainment featuring live vocalists and interactive DJ's described by his clients to be the "Best Of
Both Worlds!" In 2003, Chris moved to Lititz, PA and started his new company, It's Showtime! DJ
Entertainment, specializing in "NYC Style Weddings" which is a format that provides for a "Non-Stop
Celebration" and dancing throughout the reception. To more accurately reflect the broader base of
products and services we now offer, whether it's producing "live" entertainment shows or all-inclusive
wedding events, Chris has created an "umbrella" company, Chris Poje Productions, LLC to oversee all operations.
Chris has performed as a Wedding DJ Entertainer at over 500 weddings in NY and PA. He believes that every wedding should
be customized to reflect the choices and vision of his clients. In 2010, Chris was awarded the title of "PA State Senior Idol,"
after winning the statewide singing contest with the finals held at Dutch Apple Dinner Theatre. You can see that performance
in the above video. Chris has also performed with Prima Theatre Company's "Billy Joel Cabaret" and with Ware Center's Cabaret
In The Sky series, "New Voices Of Lancaster." In the winter, Chris travels to Florida to do headliner performances at premiere
adult communities from coast to coast. Chris is a wedding visionary, having developed trendsetting and cutting-edge services
and products that you will not find anywhere else.
Watch as Chris performs at the "New Voices Of Lancaster."

Jessica is a very talented, professionally trained vocalist, actress and dancer. She has performed at
over 50 weddings over the last three years as Chris Poje's DJ Assistant. Brides, grooms & guests
often rave about her beautiful vocal abilities. Jessica has used her dancing talents to choreograph
a "Thriller Dance" with moves taken from the Michael Jackson Video and teaches it to guests at her
weddings, as well as other group line dances as needed. You can see this video now in the above
window. Jessica recently performed in "Fiddler On The Roof" (Sphrintze), which started its national
tour at the Dutch Apple Dinner Theatre. She was also in The Fulton Opera Houses' production of
"Annie" (Pepper); Warwick School productions of Guys & Dolls (Adelaide); Annie (Annie); Beauty
& The Beast (Babette). Jessica has appeared on local TV performing the US National Anthem for the 250 Anniversary Of Lititz Parade and at Clipper Magazine Stadium for the Barnstormers, and is often requested for local sporting events.
Watch as Jessica performs the "Thriller Dance."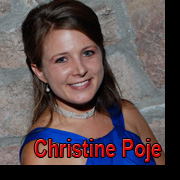 Christine is a very talented and experienced DJ / dancer and coordinator. She has performed at
hundreds of weddings as Chris Poje's DJ Assistant. Christine received her Certification as a Wedding
Planner from the national Association Of Bridal Consultants. Her skills and knowledge are a great
contribution on your wedding day as we direct your wedding according to the written plan and event
timeline and work in concert with your other wedding professionals.
Carol is a very creative and personable Photo Booth operator.
She is the friendly, helpful person who welcomes your guests into their photo booth session with
a smile while offering tips to achieve the best photos. She also uses her artistic skills while crafting
your photo strip guest album on site for you.